Thank you for visiting our website. We are the Columbus, Ohio chapter of the Democratic Socialists of America. As a political activist group, our efforts involve many movements and ideas to progressively evolve the world into a more equitable society. We are affiliated with Democratic Socialists of America.
________________________________________________________________________
Next Meetings:
Thursday, February 11 2015, 7:00 PM. Open Business Meeting.
Location: Northwood Building, 2231 N. High St., room 100. Parking available in "R" spaces behind the building.
Also, our social for February will be an informal reading group meeting on Saturday February 13, 2:00 – 4:00 PM at Kafé Kerouac, 2250 N. High St., 43201 (across from the Northwood-High Building).
________________________________________________________________________
Protect Unemployment Insurance: Oppose H.B. 394
Ohio House Bill 394 is an attempt to address the shortfalls in the Unemployment Compensation Fund by reducing the benefits to workers worker by millions of dollars a year and, while at the same time, when fully implemented businesses will pay less in unemployment compensation. According to the AFL-CIO, "this bill misdiagnoses the problem by taking it out on Ohio's workers and will hurt the state's economy."
DSCO member, Mike Smalz submitted testimony on this bill behalf of the Ohio Poverty Law Center to the House Insurance committee. According to Mike, HB 394 hurts low-wage earners and makes most workers vulnerable to being thrust into poverty if they become unemployed. It undermines the current unemployment program which is already one of the least favorable unemployment programs in the county.
What we can do:
1) Enter your information to connect to your state representative now and ask them to oppose HB 394. Contact your State Representative here: https://actionnetwork.org/forms/stand-up-for-unemployment-insurance-and-oppose-hb-394
2) Forward this information widely!!
Also:
Call the Ohio House Insurance Committee Member:
Representatives to Call (Start with #1)
1. Barbara Sears (Bill Sponsor) - 614-466-1731
2. Robert Hackett (Insurance Committee Chair) - 614-466-1470
3. Michael Henne (Vice-Chair) - 614-644-8051
4. Sarah LaTourette - 614-644-5088
5. Heather Bishoff - 614-644-6002
What to Say When you Call - "My name is _________ and I am from ___[town/county]___. I am calling to let the representative know that they should NOT support HB 394. I think that the unemployment system should repaired, but not on the backs of Ohio's workers."
Log your Call - Click here to log your call so we can track how many calls legislators received urging them to drop this harmful bill. Logging your call also helps us share your advocacy work with the media, lawmakers and other supporters.

__________________________________________________________________________________
Congratulations DSCO member Mike Smalz

_______________________________________________________________________________________
Central Ohio Grassroots for Bernie Sanders - For more information, find them on Facebook at https://www.facebook.com/groups/349053251972140
________________________________________________________________________________________
From RootsAction: The United States has the money to make college free, as some other nations do. Senator Bernie Sanders has introduced a bill to do that (S.1373).
The U.S. is falling behind in education, developing a less-informed public. Students are unable to attend college or to complete it or to choose any but the highest paying job upon graduation.
Along with television and prison, student debt is probably one of the greatest impediments to activism and civic engagement in this country.
Click here to email your representative and senators.
____________________________________________________________________
RETIREES TELL COMMISSION ON AGING----NO CUTS!
By Bruce Bostick, The Executive Board member representing Steelworker's Organization of Active Retirees (SOAR) for Ohio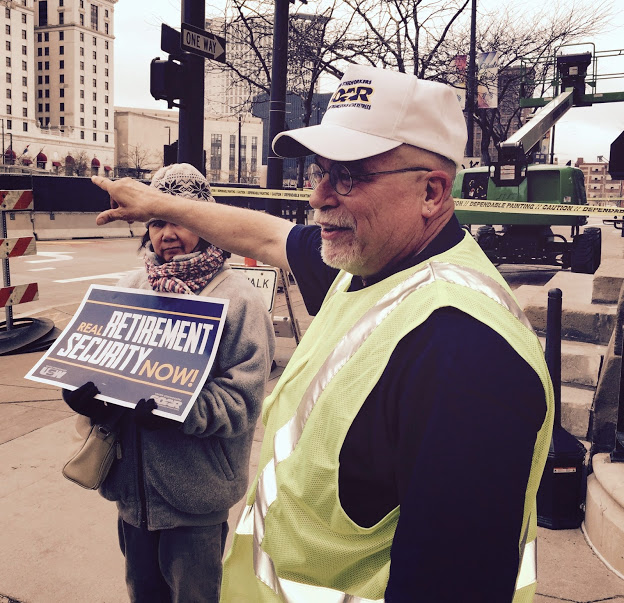 The House Conference on Aging (WHCA) only meets once every decade, but this year that hearing on 4/27 in Cleveland, Ohio was greeted by a rally of hundreds of concerned & angry retirees and their supporters.
"Social Security and Medicare are lifelines for our retirees," stated Jim Reed, President of Cleveland Steelworker's Organization of Active Retirees (SOAR). "They are benefits we fought for and we EARNED, not some kind of 'entitlement.' These benefits keep our members alive, and they help keep the economies of our communities afloat. We had to come out to tell those folks at the hearing that we wouldn't tolerate any further talk of cutting Social Security, Medicare. We need to be expanding, not cutting these programs!"
The White House Conference on Aging (WHCA) was set up as a non-partisan body in 1961, designed to promote national government policies in regard to seniors, retirees, for the following decade. It had met, and promoted in a non-partisan manner, Social Security, Medicare, Medicaid, Older Americans Act and other programs designed to aid retirees, meeting in D.C. in 1961, '71, '81, '95 & in 2005. However, pro-corporate, right-wing Republicans have led a drive to kill these programs and for the first time ever, after becoming the majority in congress, refused to fund the WHCA and the Older Americans Act. In this drive against retirees, senior Americans, they've unfortunately been joined by some pro-corporate Democratic elected officials, who've looked for the possibility of a "grand bargain" that could give them cover to vote with the GOP to cut these important programs.
Rather than not holding the WHCA hearings this year, the Obama administration decided to hold hearings, even without funding, in five cities (Phoenix, Tampa, Seattle, Cleveland & Boston) across the nation, and invited representatives to attend and testify.
"We felt we had to join SOAR in holding a public event to highlight the need to mobilize retirees to protect Social Security and Medicare from proposed cuts," said Norm Wernet, President of Ohio Alliance for Retired Americans (ARA). "We're here to join with our coalition partners and assure that retiree's voices are heard. The WHCA hearings only hold a limited number of folks, and it's generally dominated by 'experts.' We felt it was extremely important that regular people's voices be heard on what proposed cuts mean to families and communities."
Hundreds of retired steelworkers, members of SOAR, teachers, auto workers, teamsters and many others not affiliated with any union bared the cold, wet and windy weather to rally at the Old Stone Church in downtown Cleveland, just a block from where the WHCA hearings were being held. As they gathered, they were entertained by Todd Smith, retired CWA member and local labor troubadour, singing a song, to the tune of "Brother, Can You Spare a Dime," that he'd written for the event.
Bill Pienta, International President of SOAR, told the crowd that Social Security/Medicare, needed to be preserved and expanded. "We can preserve and expand Social Security easily, by scrapping the cap on Social Security taxes paid by wealthy individuals, and just having them continue to pay for this important program on all their earnings. Having the wealthy pay their share," he said, "is far more humane than cutting Social Security benefits from some poor soul!"
Ohio Senator Sherrod Brown and Congresswoman Marcie Kaptur both testified at the WHCA on the need to continue Social Security and Medicare, without cuts, before leaving to speak at the rally.
"Corporate special interests and their allies in Congress are dead set on dismantling Social Security piece by piece," Brown told the crowd, "starting with Social Security Disability Insurance. For low income Americans, Social Security represents 85% of their income. Cutting these benefits would greatly harm all Americans and would undermine entire communities."
To cheers, Kaptur told the crowd that "For 80 years, Social Security has protected millions of Americans. We're here to stand up and demand that it stay in place for 80 more!"
"Young workers and retirees are allies, not enemies, like some would have you believe," stated Elva Martes, Ohio Coordinator for Next Generation, USW organization of young workers. "If they cut benefits for retirees, it makes it far worse, not better, for young workers in the future. We stand with you against cuts to Social security and Medicare. Our interests are the same!"
The crowd, cold and wet, but happy, cheered! "We are not going to stop here," Wynn Antonio, leader of the Cleveland Senior Voice coalition, stated as she left the rally. "This is just the start of a movement across the country to tell those corporations that we won't stop. We fought and won Social Security. It used to be called 'the third rail,' because politicians touched it at their own peril. We were here to let them know them it's the third rail again!"
For a Feminist Socialism by Simone Morgen

Why a Feminist Socialism? Why, indeed? Isn't Rosa Luxemburg a social icon? Don't socialism's core values of equal treatment of all persons, without prejudice or disparate treatment, address feminist concerns?
From: Democratic Left, Winter 2013. Read the article!
50th Anniversary of Michael Harrington's "The Other America" at Progress Ohio. Watch the Complete Program! Panelists: Keith Kilty, Bob Fitrakis, Fadhel Kaboub, Kevin Boyle, Linda Cook, and Lisa Hamler-Fugitt
Presentation by Bill Barclay, DSA member and member of the Chicago Political Economy Group (www.cpegonline.org)
Democratic Socialists believe that both the economy and society should be run democratically—to meet public needs, not to make profits for a few. To achieve a more just society, many structures of our government and economy must be radically transformed through greater economic and social democracy so that ordinary Americans can participate in the many decisions that affect our lives.