Thank you for visiting our website. We are the Columbus, Ohio chapter of the Democratic Socialists of America. As a political activist group, our efforts involve many movements and ideas to progressively evolve the world into a more equitable society. We are affiliated with Democratic Socialists of America.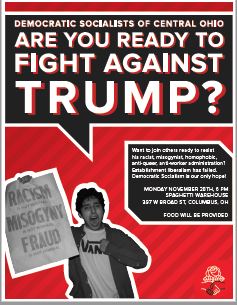 New Member Orientation
Monday November 28, 2016 starting at 6PM
The Democratic Socialists of Central Ohio are holding a meeting for people interested in socialist organizing. With Trump's victory it is crucial that people get organized to resist his right-wing agenda.
Please join us to learn more about Democratic Socialism, Democratic Socialists of America, and our plans to resist Trump. Use the below buttons to RSVP so that we can estimate the number of attendees for the event
Location: Columbus Spaghetti Warehouse
397 W. Broad St., Columbus, OH 43235
For a Feminist Socialism by Simone Morgen

Why a Feminist Socialism? Why, indeed? Isn't Rosa Luxemburg a social icon? Don't socialism's core values of equal treatment of all persons, without prejudice or disparate treatment, address feminist concerns?
From: Democratic Left, Winter 2013. Read the article!
50th Anniversary of Michael Harrington's "The Other America" at Progress Ohio. Watch the Complete Program! Panelists: Keith Kilty, Bob Fitrakis, Fadhel Kaboub, Kevin Boyle, Linda Cook, and Lisa Hamler-Fugitt
Presentation by Bill Barclay, DSA member and member of the Chicago Political Economy Group (www.cpegonline.org)
Democratic Socialists believe that both the economy and society should be run democratically—to meet public needs, not to make profits for a few. To achieve a more just society, many structures of our government and economy must be radically transformed through greater economic and social democracy so that ordinary Americans can participate in the many decisions that affect our lives.
Heading